In-Home Care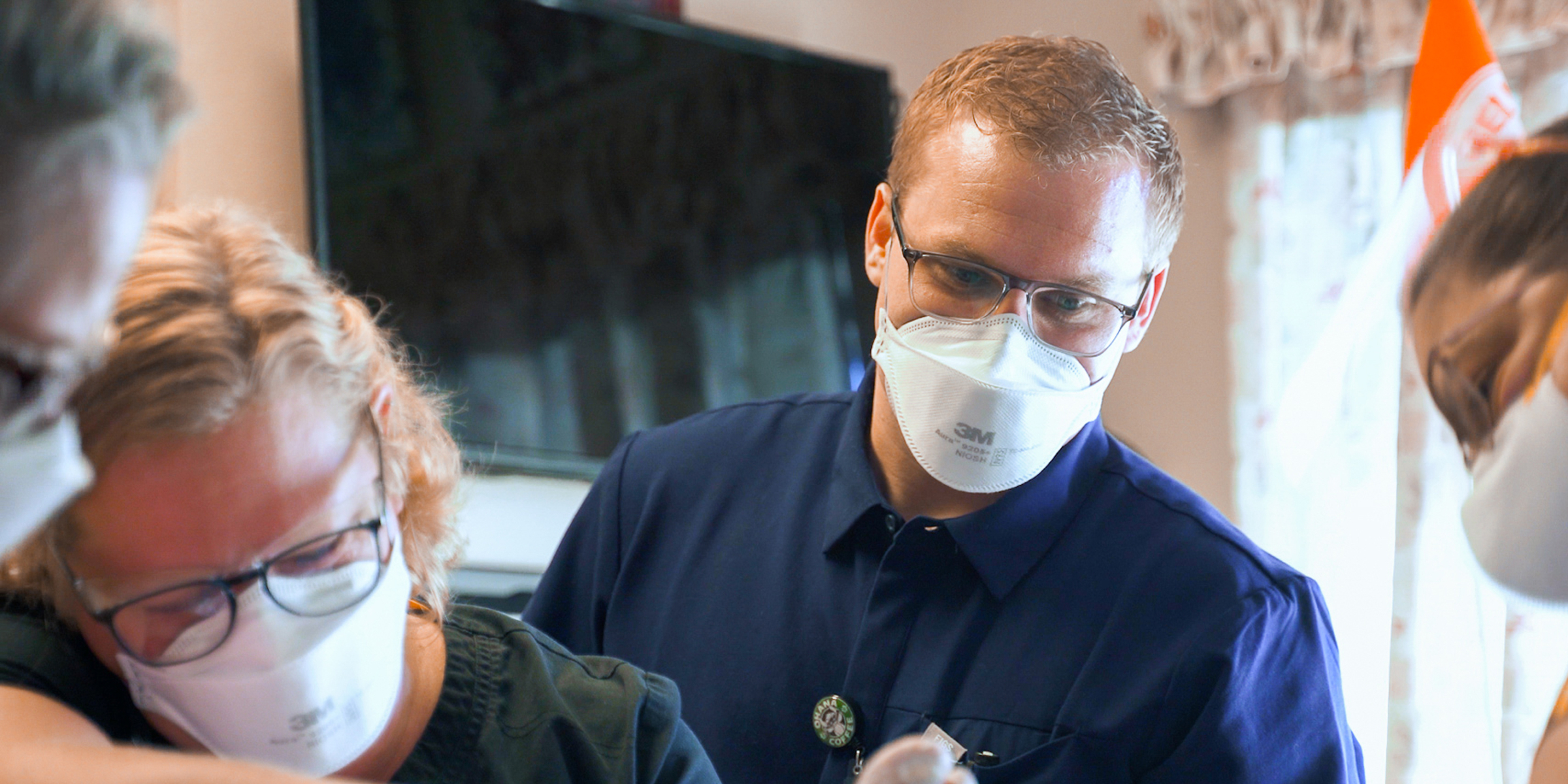 Faster Healing
Home Health patients can be treated by United Wound Healing's skin and wound specialists both virtually and in person. Our collaborative approach to wound care at home results 2x faster healing compared to national averages.
United Wound Healing has developed a unique process called Team-Centered Skin and Wound Care®. This process focuses on treating the entire patient, including chronic conditions and biofilms that complicate and delay healing. When a home visit is beneficial, our specialists bring advanced assessment and treatment technologies to accelerate wound healing and guide our home health partners in both evidence-based and value-based patient care.
Convenient Access to a Specialist
Caring for your skin at home has its own unique challenges. Sometimes even the most experienced wound nurse needs help from an expert. Our skin and wound specialists are available for easy, HIPAA-compliant virtual consultations upon request.
Advanced Diagnostics and Treatments from Home
When a patient needs an in-person consultation from one of our skin and wound specialists, they will also receive the most advanced diagnostic and therapeutic options available from the comfort of their home. United Wound Healing's skin and wound specialists utilize non-invasive near-infrared spectroscopy to see deep into the tissues within and around each wound we treat. This technology allows for real-time visualization of the blood flow and tissue quality required for successful wound healing.
Real-time bacterial fluorescence imaging is also used by our skin and wound specialists to identify and remove bacteria in and around each wound. Removal of the biofilm regularly throughout the healing process results in fewer infections, fewer antibiotics, and fewer severe complications such as amputations.
When chronic wounds fail to progress towards healing with standard wound care supplies, our specialists utilize the most advanced DNA-guided treatments as well as cellular and tissue-based products to ensure your patients achieve the best outcomes possible. United Skin and Wound Specialists are also trained in performing treatments with UltraMIST, a pain-free treatment that has proven to reduce the healing time of open ulcers and deep tissue pressure injuries.
Support for Home Health Agencies
While United Wound Healing is the gold standard for clinical excellence; value-driven results for our home health partners are our specialty. The Patient-Driven Groupings Model (PDGM) requires accurate and timely assessments and diagnoses.

United Wound Healing ensures our Home Health partners receive the most specific and accurate ICD10 codes to optimize your reimbursement. Our experts will also provide medical records and data to support you when audits occur.

For more than six years United Wound Healing has transformed mobile skin and wound care.

Average Days to Wound Closure:

United Wound Healing: 32 days
U.S. Averages: 64 days

United Wound Healing will help guide you in developing a formulary of treatments that have proven to work for your patients at home. We ensure you only purchase the supplies necessary for great outcomes, at the lowest cost.

United Wound Healing has a team ready to help you ensure your home health can always have the best skin and wound care possible. We work directly with the hospitals in your community to help ensure patients are discharged timely with the appropriate resources to care for their skin-related conditions.

Our specialists will continue to care for your residents after their episode of home health is completed. This ensures the best care and proper treatments are in place to help limit re-hospitalizations related to skin and wound complications.